Hi y'all!!! My broke behind has a product review!! I really had no business in Sephora.... I'm in a new city and to be 'safe' I had to check out the malls. So far my favorite mall is the
Perimeter Mall
, which is about 20mins from where I'm staying. Besides I needed to go meet the girls at Sephora and see if they are stalkerish like the ones in CT...... I walked in with two swatches on my hand...
Urban Decay liquid liner in Perversion

Stila Smudge Pot in Black

MUFE ~ Waterproof Liquid Liner

I swatched them at Ulta that I happened to find on my way and I wanted to compare them to the MUFE liquid liner. When it comes to black liquid liner I a bold black almost shiny-ish line. A lot people recommend Fluidline, which I already own but it doesn't really change my life....
I had a psycho pic of the 3 swatches in my phone b/c I tweeted them for opinions, but I must of deleted it. Out of the 3 MUFE won! Figures it was the most expensive
*rolls eyes at empty wallet*
... Just a tip, it goes on really wet! I wish the formula was a less runny, I'm not a fan of the brush b/c I like me line a little thicker, so I have to do it twice, but no big deal.
the picture doesn't do the liner justice........Ignore the scraggly unfinished brow....

I was also searching for a new mascara. I wanted to step out of my comfort zone and step away from my HG Loreal Voluminous & Lash Blast.. Yeah, I mix mascaras! They all do different stuff!

I bought L'oreal Telescopic Explosion and it's alright, didn't change my life.. The wand ball does work for getting all up in your lashes but, I found that too much product gets on the ball wandy thing..... it's not a FAIL but not a win............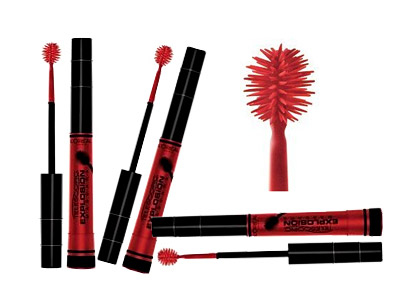 I let my cousin Monica borrow it and she feels the same and stole my new phrase 'it didn't change my life' but with a southern twang. So I was still on the prowl. While I was in Sephora I noticed the sales girl had, nice lashes and she said she uses Bare Ecentuals Buxom Lash Mascara. So I copied her and grabbed it. I really like it! It's black black and doesn't smudge or fade. I love it!!! I love the brush, the shape of the brush let's you get all up in your lashes. I can even get my non-existent bottom lashes with the wand!

What Sephora.com says ~

Blackest Black holds the style of your lashes for a continuous 12 hours with no flakiness. The silky, vitamin-rich formula darkens, lengthens, and thickens from root to tip without ever clumping. Its patented, hourglass-shaped brush is designed to lift and separate every lash while delivering the perfect amount of antioxidant-rich mascara needed for bigger, fuller lashes.


What it is formulated WITHOUT:
- Parabens
- Sulfates
- Synthetic Fragrances
- Synthetic Dyes
- Phthalates
What else you need to know:
It Intensely volumizes lashes up to 300%.
I really fail at taking 'eye shots'

So let's break it down:
L'oreal Telescopic Explosion
~
♥♥
MUFE Liquid Eyeliner
~
♥♥♥♥♥
Bare Ecentuals Buxom Lash Mascara
~
♥♥♥♥♥
I'm on the hunt for a hot roller set!!!! Please leave me a comment with any suggestions & opinions. I want one that has at least 6-8 jumbo or XL curlers, and the rest large and medium and maybe a few smalls ones. I'm rocking long ass extensions so I need a set that's geared toward long hair.
My next project is to master individual lashes, I watched my cousin Krissy get them done, and I think if I study some YT tutorials I'll be able to get it down! I'm interested b/c people can wear them for up to 1 or 2 weeks if they don't use any oils around the eye.
I'm so sorry for being a bad blogger. I'm trying to keep up with everybody, but when moving, getting used to my new environment and keeping up with school, I'm a hott mess. I was feeling sad and homestick, wanting my mommy like I'm 4yrs old, but I spent the day and over night with me cousin Krissy who lives in Columbus, GA (1hr 20mins from ATL), and I feel better!!
We went to the Columbus mall and I kept Damia- 3yrs old, and Damien- 5wks old while Krissy got beautified in the nail salon. She had a formal last night for her hubby's graduation to 'Officer' (I think I may have the rank wrong, b/c he has alot of pins on his jacket. I'm going back tomorrow for the official graduation ceremony. While Krissy and big Damien went to the formal dinner. I watched the kids, I love kids and babies and for some reason little kids love me, my mom calls me the baby whisperer. When I have kids my baby kid powers wont work and I'll have bad a$$ kids that will get chancletas en la cabeza!!!
Yes, she's wearing heels, lol.... I have her a pedi and we played Toddlers & Tiaras, lol

Little man was chillin' in the swing, as long as I kept the bears over his head spinning. He was a happy baby :)
Luv Y'all!!!
Mean It!!!