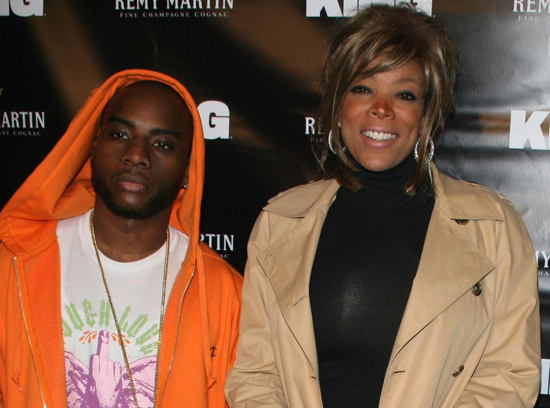 So now that I'm not commuting a zillion miles to my temp job anymore, I can listen in to the Wendy Williams Show on WBLS (107.5) I noticed something.... Charlamagne is GONE....
I don't know if I buy this story, but at least it's an answer...
"Ms. Williams said…the firings had been the decision of WBLS, which is cutting costs.
(Me: To pay for the settlement of the sexual harassment lawsuit against the station, Wendy Williams and her husband, Kevin Hunter). Check out an earlier post on the matter.
) In an e-mail message on Friday, Ms. Williams said she first learned of Charlamagne's firing on Monday, adding, "I was disappointed in their decision not to have him on the show but I'm not worried about his ability to go on and do very well for himself — he's a true friend and continues to be an important member of the team and will be on my TV show this summer."
(Me: Oh, great. NOT!)
(source)
CHARLAMAGNE

FIRED

FROM WENDY WILLIAMS SHOW TALKS ABOUT NEW RADIO GIG


Wendy Williams' co-host Charlamagne Da God was fired from his hosting gig with the radio talk show queen. Charlamagne revealed to Allhiphop.com that he still has a future in radio and is about to go back to work next week.


Budget cuts at WBLS were cited as the reason for the staff firings which included talent booker Nicole Spence who had filed a sexual harrassment lawsuit against Wendy Williams which involved Wendy's husband Kevin Hunter. Is the staff cut excuse just an easy way for Nicole Spence to be cut from the payroll?

Charlamagne was not the only one to receive a pink slip. New York's Daily News has confirmed that most of Wendy's production staff was let go as well causing the rumor mill to speculate that this is WBLS' way of forcing Wendy to resign. SOHH gossip blogger Gyant claims that if Williams leaves, the station won't have to pony up her hefty severance package.

In the midst of the shaky situation at WBLS, back in June, Williams' talent booker and publicist, Nicole Spence, filed a $5 million sexual harassment lawsuit against the shock jock's husband, Kevin Hunter, Williams and the station's parent company, Inner City Broadcast Corp.

Spence accused Hunter of sexually propositioning her and later threatening her when she turned down his advances. She also claimed Hunter created a hostile work environment by physically attacking Williams at the office and she blames the station for not only giving Hunter authority - even though he did not work on the show - but for not responding to her multiple complaints about the situation.

Both Williams and Hunter have vehemently denied the allegations. source

Charlamagne says he will continue his work relationship with Wendy Williams on other projects. Listen to Charlamagne diss hip hop artists like Chingy and Yung Berg while explaining how radio is programmed to make everyone like bad music. Did anyone think these controversial comments would have gotten Charlamagne fired?

Less than 48 hours since his abrupt dismissal from WBLS's The Wendy Williams Experience, Charlamagne Tha God is preparing for his return to South Carolina radio, he revealed to AllHipHop.com exclusively today (November 8).

Charlamagne, who hosted his own show for six years on Columbia, South Carolina's Hot 103.9 (WHXT-FM), will be back on airwaves in Columbia as early as next week.

"I will be doing a specialty show with WXBT 100.1 'The Beat' in Columbia," he told AllHipHop.com. "I can do that from up here and it will broadcast down there. Radio is like training, [you] have to stay on that bike to keep the conditioning up for when that big fight comes. I didn't have a non-compete clause, so I am able to work immediately in New York. I'm just weighing out my options right now."Charlamagne joined The Wendy Williams Experience in March 2006, adding more spice to the controversial syndicated afternoon talk show.

He was terminated from his position as Wendy Williams' co-host just minutes after the broadcast on Monday (November 3).

Citing budgetary constraints as the reason, WBLS also terminated the show's executive producer Tarin Donatien, talent booker and publicist Nicole Spence and production director Trev Hollywood.But the relationship between the self-proclaimed "Queen of All Media" and her protégé remains strong. In an on-air statement to fans on Thursday about his departure, Wendy expressed her support and assured fans that he would be okay."He's gone, he's not forgotten," she said. "He is still part of la familia. That is still my boy. He still sleeps in the purple room when he comes to the house. We still drink our Patron on Friday nights."
http://binside.typepad.com/binside_tv/2008/11/charlamagne-fir.html